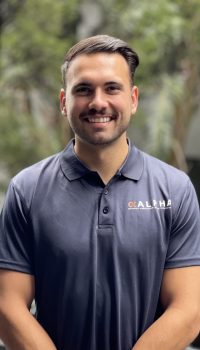 Dr. William Krithararis graduated from Victoria University with a Bachelor of Science (Clinical Science) and a Master of Health Science (Osteopathy). He has since developed a strong background in exercise rehabilitation and is a qualified KLT strength trainer and level 1 ASCA Strength and Conditioning Coach.
Will was first introduced to Osteopathy as a teenager when he was injured playing AFL. He was drawn to Osteopathic methods with and their holistic approach. He strongly believes there is always more to an isolated injury, that you must always look at the whole picture.
Will has played a high level of football, spending three years in the VFL at the Northern Blues. With his experience in high level sport, Will has a passion for working with athletes, as he understands the demand sport has on the body and how challenging it can be. Will is passionate about movement of the human body. Through his years of study, paired with his love for exercise and fitness, he believes that the longevity of the body comes down to it's ability to move, and keep moving!
In his spare time, Dr. Will loves to run, practice bouldering, eat delicious food and support the mighty Magpies!