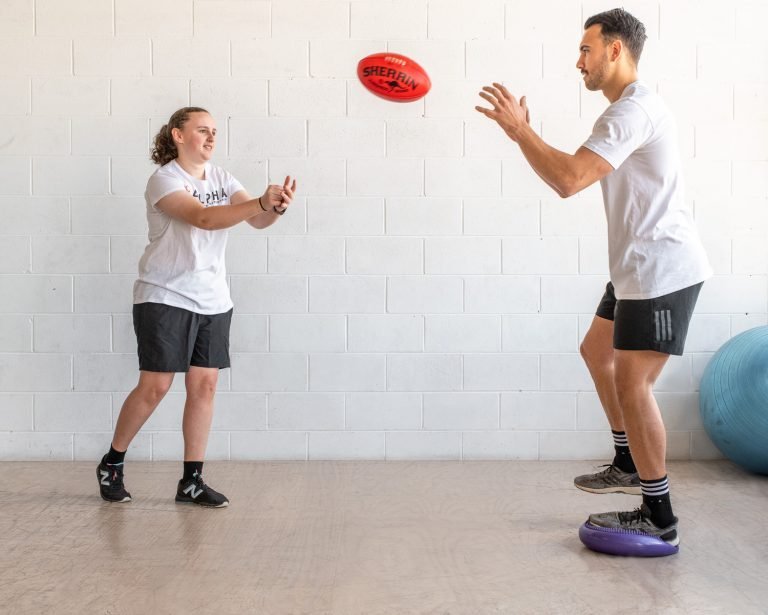 Exercise Rehabilitation is a form of active therapy to help you overcome your injury and return to doing what you love quicker. Our Osteopaths and Physiotherapists at Alpha Sports Medicine are accredited in exercise rehabilitation.
Who should do Exercise Rehab?
Anyone who has experience an injury or pain is suitable for exercise rehab, whether the injury be new or old, the right exercise rehab can help you develop a strong body and live without pain.
Ankle Sprain
Disc Bulge
Back Sprain
Tennis Elbow
Post Operative recovery
Shoulder Impingement
Rotator Cuff Injury
Muscle Strains or Tears
Hamstring Injury
Repetitive Strain Injury (RSI)
Posture Related Pain
How do exercise rehab programs work?
The key to a good exercise rehab program is basing it around the goals of the client. Depending on the condition, your Alpha Sports Medicine practitioner will give you a recovery guideline, aligning with your goals. By setting realistic goals along the way, the rehab program can be progressed accordingly, ensuring your recovery builds strength and confidence. Along your rehab journey, you will have the support of your Alpha Osteo or Physio.
Our team at Alpha Sports Medicine offer one on one Active Therapy sessions in our boutique gym located in Newport in the inner west suburbs of Melbourne. We are conveniently located for people in surrounding suburbs including Altona North, Yarraville, Sunshine and Williamstown.
Can you claim Exercise Rehab with Private Health?
Yes. You can use your private health at our clinic when doing an exercise rehab session with one of our Osteo's or Physio's at Alpha Sports Medicine.