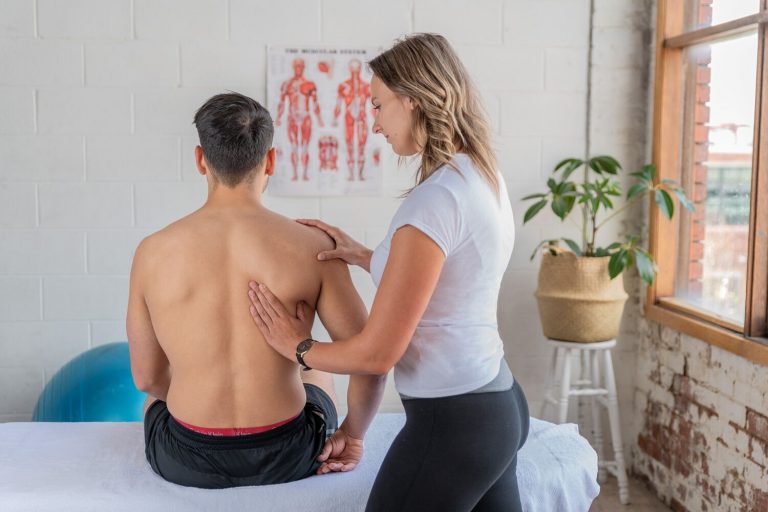 Physiotherapy is a form of manual therapy focusing on the rehabilitation of the body. Physiotherapists are accredited Allied Health Practitioners registered with AHPRA. Physio's study an undergraduate degree in Health or Exercise Science, followed by a post graduate degree in Physiotherapy. 
What kind of pain can be helped with Physiotherapy?
Low Back Pain
Neck Pain
Headaches
TMJ Jaw Pain
Posture related concerns
Pelvic Related Pain
Hip Pain
Bursitis
Shoulder Impingement
Sports Injuries & Rehab
Exercise Rehab
Plus much more!
What can you expect at your first Physio appointment at Alpha?
Our clinic is conveniently located in on Blackshaws Road, Newport, easy to get to from any surrounding Melbourne suburb including Yarraville, Altona North, Sunshine or Spotswood.
Your friendly Alpha Physio will ask you to fill out a brief form on arrival. Your Physio will then ask you questions about your pain to get a better understanding of it's cause. Your physio may then ask you about your medical history to get a clear picture of your condition. 
Your diagnosis and treatment plan will then be explained. Treatment may involve soft tissue massage, stretching, mobilising joints and exercise. The Physio's at Alpha may also use dry needling or Ultra Sound therapy.
Your exercise rehabilitation will be prescribed to help you overcome your pain and get back to living your best life!
Can you use your Private Health?
Yes. Physiotherapists are registered healthcare practitioners and most health funds will have rebates available for Physio. Check with your own private health fund prior to your appointment to confirm.
Why should you see a Physio at Alpha?
The Physio consults at Alpha a thorough and a first appointment will run for 45 minutes. Our Physio team work closely with our Osteopaths and approach the body in a holistic way. We use a variety of techniques to help you feel your best. We are the experienced Physio near you.